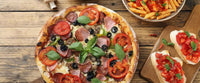 A Message from Vittorio
When you order for pickup on this site, you save our restaurant from having to contribute up to 30% of our sales to those "delivery" companies. They take commission even for takeout orders!

Place an order during our business hours (see hours below) and come by to pick up within 15-20 minutes, or specify when you want to come pick it up during these business hours. 

Thank you for your love and support!
See Menu To Order For Pickup
Location
PICKUP LOCATION
150 W Portal Ave
San Francisco, CA 94127
BUSINESS HOURS:

11:30am to 9pm - Every Day
What Customers Are Saying
Whenever I'm in West Portal, it's always a great experience @ Trattoria! First, a shout-out to the gentlemen who greet at the door. The service here is fantastic.

M.J., December 4, 2023
When you see a restaurant with almost 5 stars and 1k reviews you have high expectations and this did not disappoint. Service was friendly and we got everything taken care of in a quick fashion.

Kevin S., August 19, 2023
Vittorio was amazing and I can't recommend him enough! He was one of the most responsive vendors we had and checked in regularly during the planning phase to make sure everything was exactly as we wanted.

Christen N., November 28, 2023